I was eleven years old at a family gathering when an uncle of mine showed me a Magic trick using a lipstick. It was the most awe inspiring thing I ever saw, a small mark of lipstick from his hand came onto mine, I bugged him till he told me how it was done and from then on, Magic became my life, it became my passion, it gave me a new identity.
From then on, I spent entire days watching David Blaine, Harry Houdini, Derren Brown and every other magician I came across. Having no friends who were very passionate about Magic, I did whatever I could around Magic myself. And for four years, I always thought that it was David Blaine who made magic cool and bought it out for the world to see. But then one day, I came across this video called, "David Copperfield - Grandpa's Aces." I saw that video and his performance made me fall in love with Magic. He is the one whose made Magic sexy, he's the one whose made Magic cool. He's made people want to watch Magic.
16th of September, 2 days ago, was his birthday. And as a tribute to the man who made me fall in love with Magic, I made a video of myself, re-enacting the first ever trick I saw David Copperfield doing.
The only reason I don't want to give the link of David Copperfield doing this effect, because people will begin to compare, and I don't think I deserve to be compared to him and frankly I think I din't really do it justice. If anyone is really interested in watching him perform, you can easily find it on Youtube.
David Copperfield has sold more tickets than any other sole entertainer in the history of entertainment, more than Michael Jackson and Lady Gaga put together. His broadway show, "Dreams and Nightmare" has sold more tickets than any other show in the world, more than, "The Phantom of the Opera", "The Lion King" and "The Cats." He has 11 Guinness Records to himself, 38 Emmy Awards nominations and 21 wins. He's been awarded the Magician of the Century award and recently became the first person ever to be given the title, "King of Magic." He's walked through the Great Wall of China, made the Orient Express disappear and vanished the Statue of Liberty.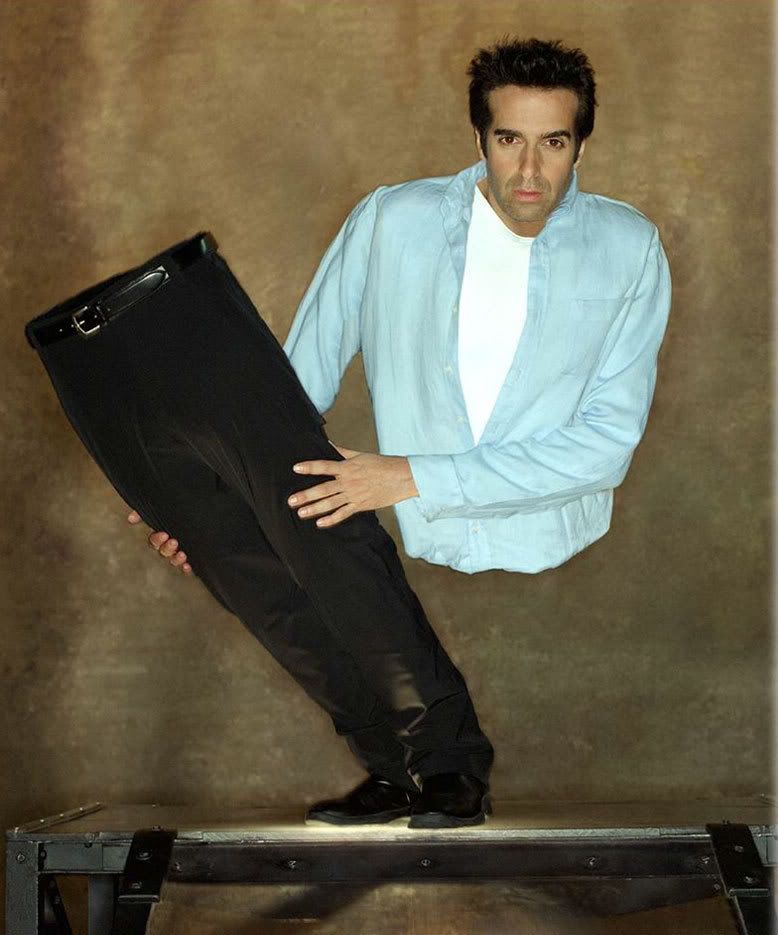 He's made millions of people, magicians and non magicians fall in love with the Art of Magic. As for me, I hate stage magic, I hate the cheesy music used in the tricks performed on stage, people who know me personally will tell you how much I hate stage magic. But David Copperfield is one person who I can watch cut people in half and fly all day long. David Copperfield is the one whose made me fall in love with Magic, and after I've seen Derren Brown live in February, I'll go on and watch Copperfield live some day too.
To the man whose made Magic beautiful, sexy, cool, amazing and awe inspiring, to the man whose made Magic terrific and has made the world stop in their tracks to watch him, I dedicate this post to the Wizard of Magicians,
David Copperfield.